who governs?
Police Others As You Would Have Others Police You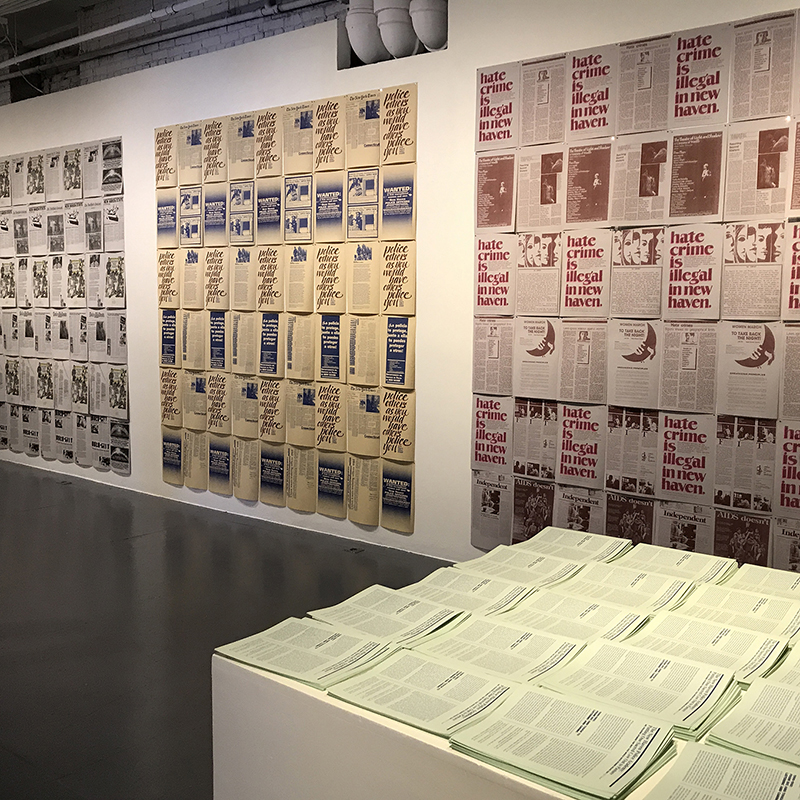 A print installation made from the archives of artist-activist and New Haven Police educator K.D. Codish at Artspace New Haven, as part of the Who Governs? exhibition of commissioned projects, curated by Frank Mitchell, fall 2020.
alder & frankia efemmera reissue series #4
Police Others As You Would Have Others Police You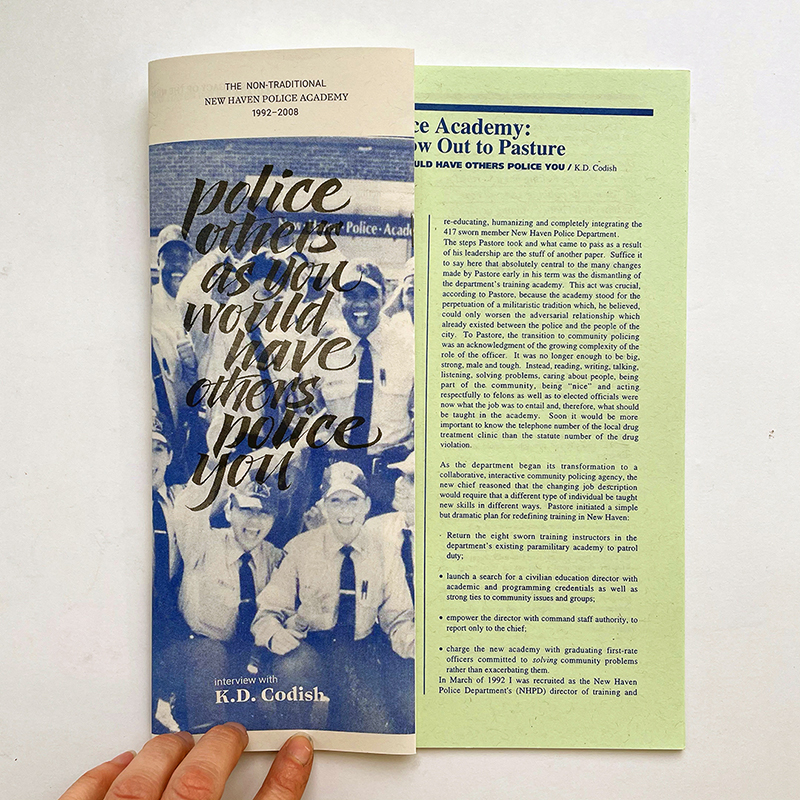 The amazing true story of the "non-traditional" New Haven Police Academy (1992–2008), which was transformed from a militaristic boot camp into a feminist, academically rigorous, socially engaged, artistic school by local activist and artist K.D. Codish. This publication includes a reprint of Codish's out-of-print 1996 article The New Haven Police Academy: Putting One Sacred Cow Out to Pasture, along with a new 2021 interview with Codish.
alder & frankia efemmera reissue series #5
A Witch Recipe for Grievers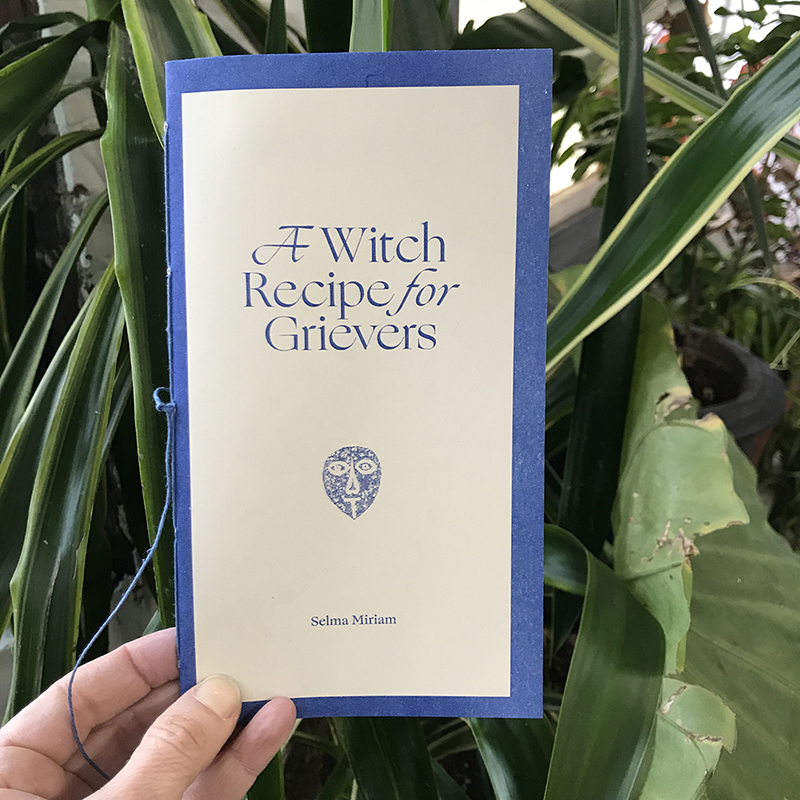 A short essay by Selma Miriam of Bloodroot, designed into a lovely contemplative pamphlet intended to be given to a friend in need.
alder & frankia efemmera reissue series #3
Saving Seeds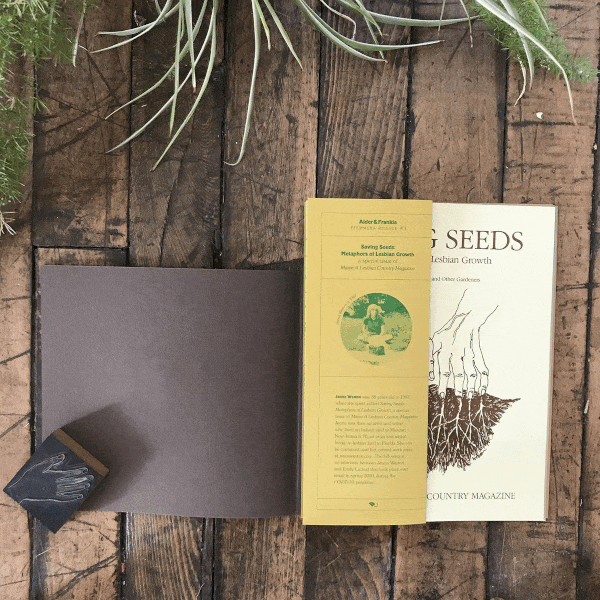 Originally published in 1987, Saving Seeds: Metaphors of Lesbian Growth, a special issue of Maize: A Lesbian Country Magazine, was created by artist and writer Jenna Weston as a tribute to "magical female-oriented gardens." This 2020 handmade reissue reimagines the black and white original in a range of lush earth tones.
40 years of bloodroot
Our daily lives have to be a satisfaction in themselves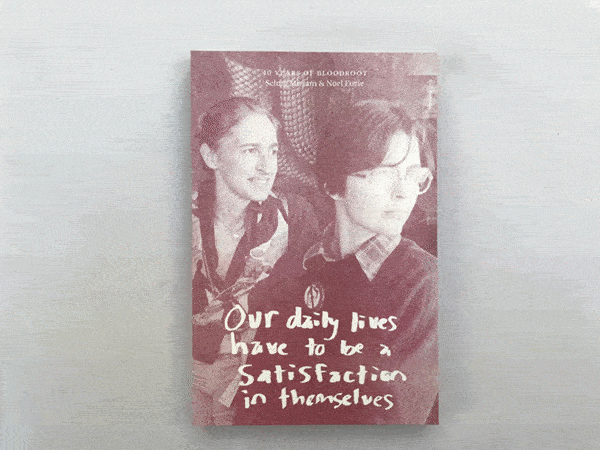 Described as "a small, perfect book" and selected as Best Book of 2017 by the Endless Bookshelf, Our daily lives have to be a satisfaction in themselves documents 40 years of Bloodroot, the feminist vegetarian restaurant, bookstore, & radical lesbian work collective in Bridgeport, CT. Comprising personal-political essays by Selma Miriam & Noel Furie & many previously unpublished photographs by Noel, the original handmade edition of the book was awarded design honors from AIGA (50 Boooks | 50 Covers), the Type Directors Club (TDC) (World's Best Typography), and the Connecticut Art Directors Club (CADC) (Gold Award in Book Design, Spirit of Creativity Award). New in 2020: offset printed, perfect bound edition with wholesale pricing available!
paper
Opuscule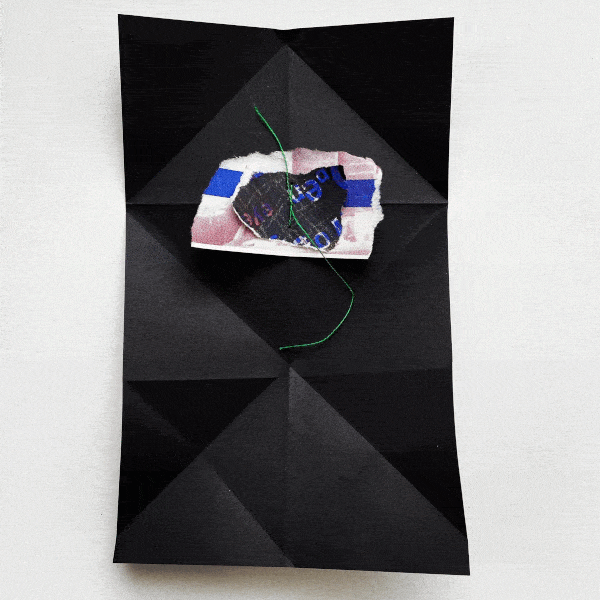 An ongoing series (2021–) of works on paper: bookmaking actions (folding, sewing, tearing, cutting, punching holes), riso printed studio scraps, and 5x8 black paper. See more at @paper_opuscule.
alder & frankia efemmera reissue series #1
Wellbeing is our Birthright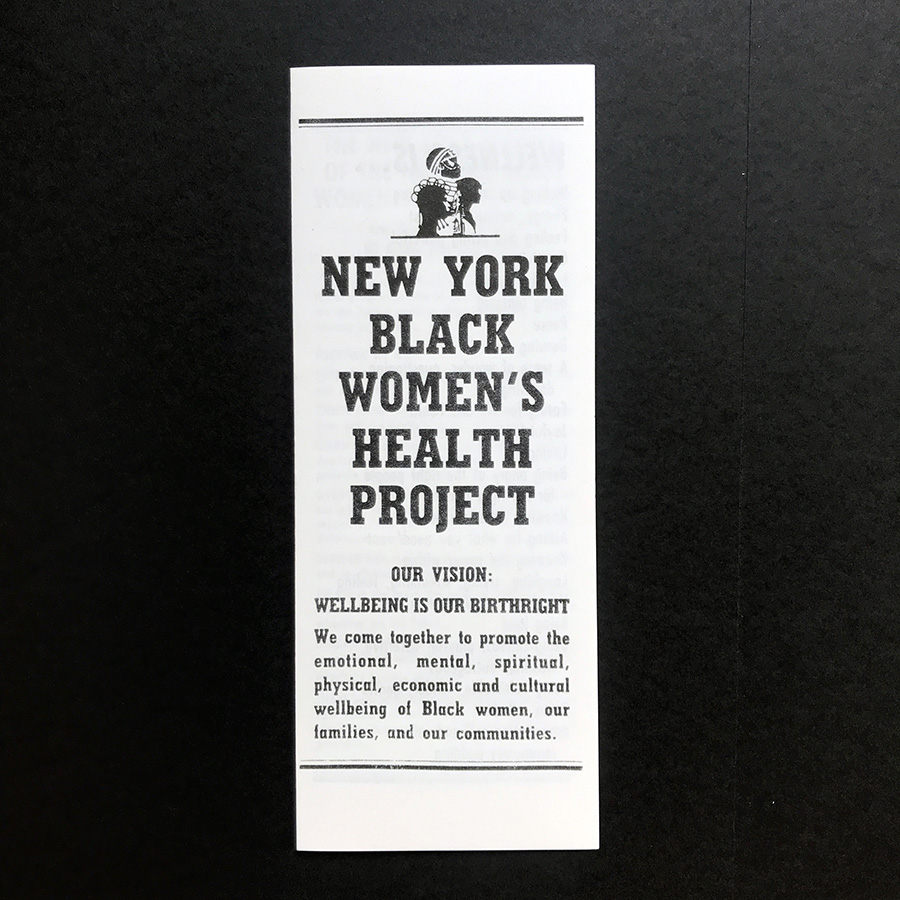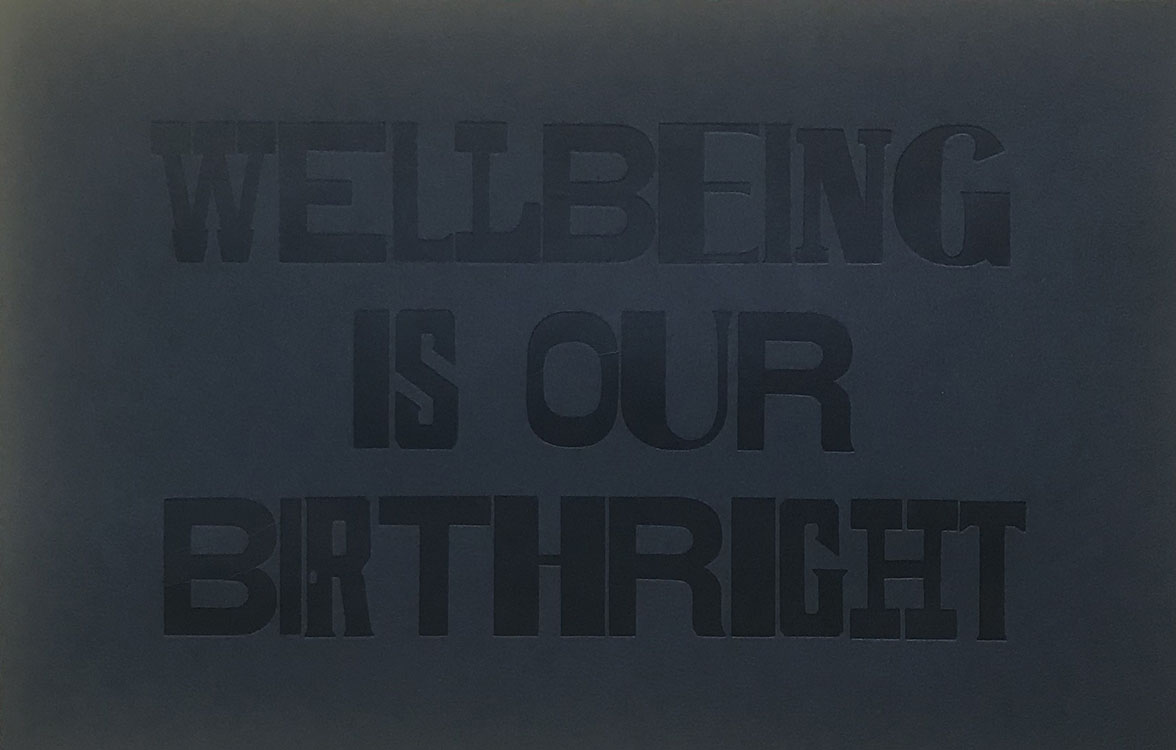 An enlarged reissue of a ~1989/90 leaflet from the New York Black Women's Health Project, along with new print interpretations of its text.
surveying the 2nd state of the
ILSSA Union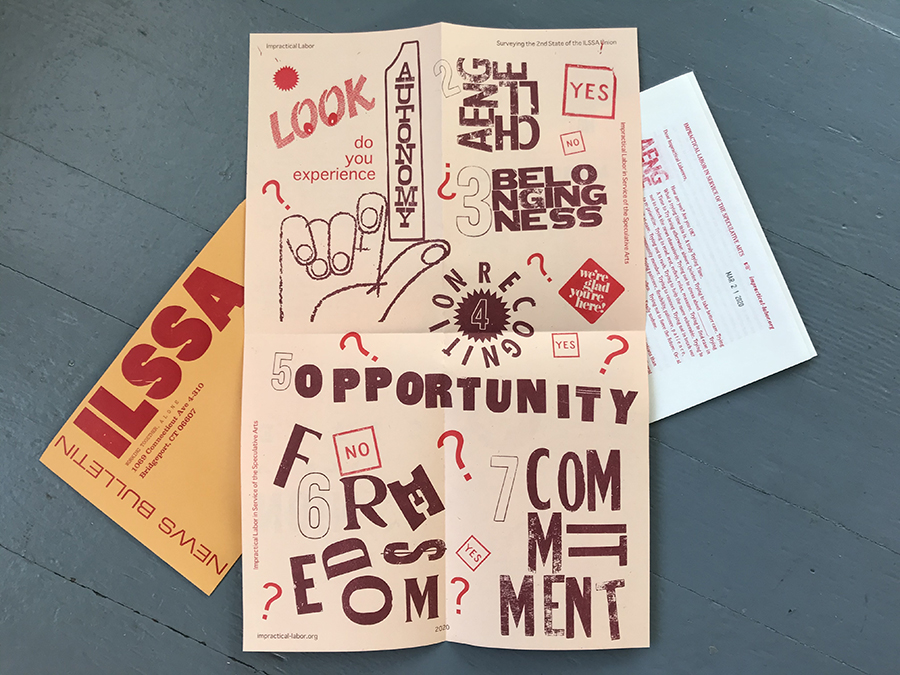 In the March 2020 News Bulletin, ILSSA asks impractical laborers to report their experiences with COVID-19 for an upcoming publication A Trying Time: An ILSSA Quaranzine for Working Together, Alone and to assess their working conditions as impractical laborers, borrowing a rubric from sociology: Do you experience autonomy? How well are you challenged? Do you experience belongingness? How well are you recognized? Do you experience opportunities to develop new skills? Do you experience freedom from pressure toward economic growth? Are you committed to your impractical labor because it is compatible with your personal goals, needs, and values? Survey answers will be compiled in the forthcoming 2nd State of the ILSSA Union and shared with all members.
make the most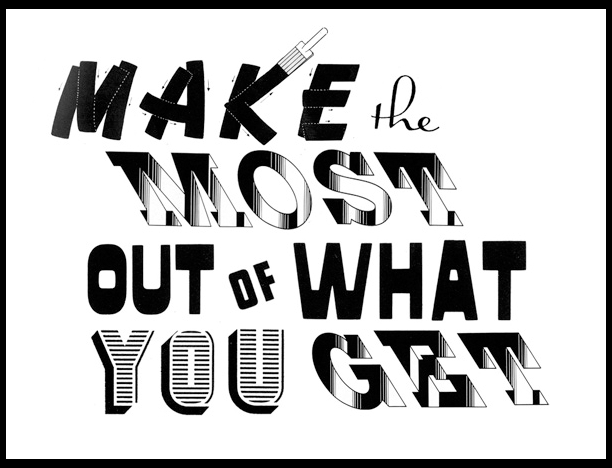 alder & frankia efemmera reissue series #2
The Reaction of Women to the Inferior Status of Women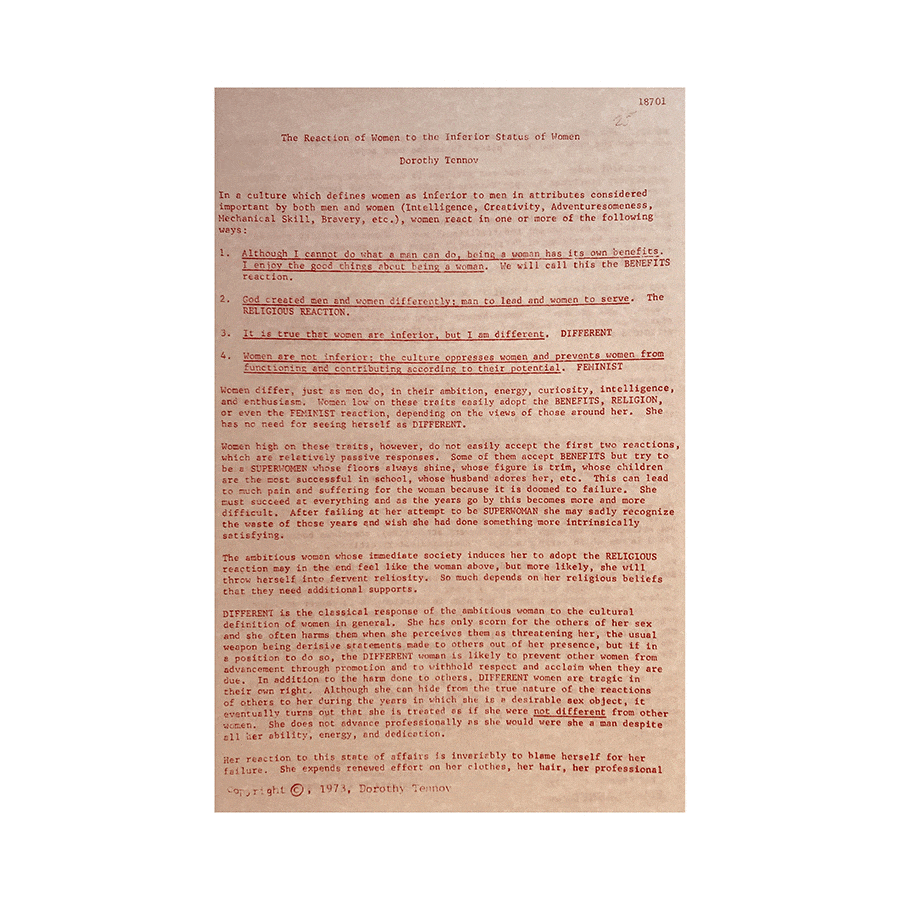 An enlarged reissue and new letterpress print of 1973 lecture notes by Dr. Dorothy Tennov for her class "Female Psychology," the first Women's Studies course at the University of Bridgeport, widely circulated by a leading feminist distributor, KNOW, INC.
towards a colllective framework
ILSSA Frameworks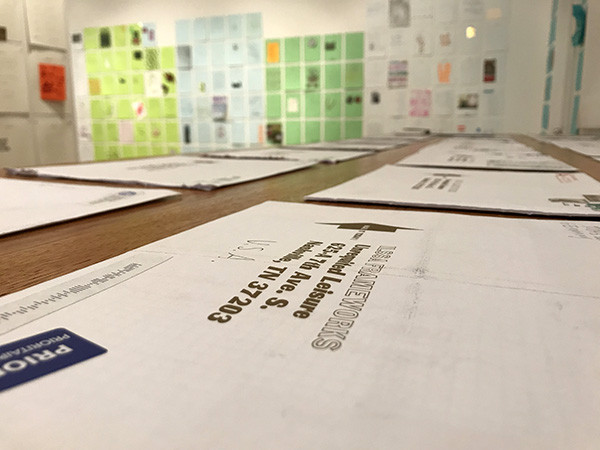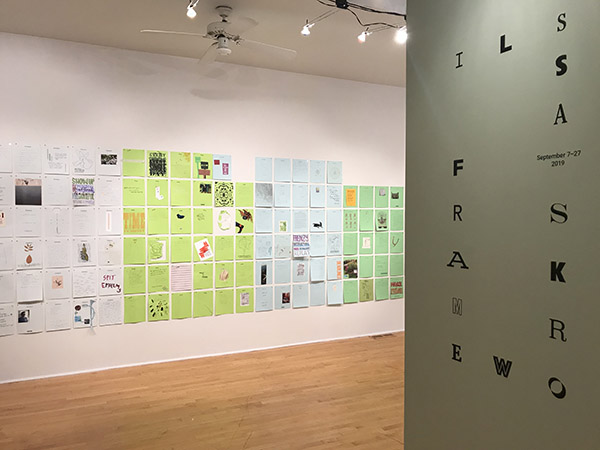 ILSSA Frameworks is ILSSA's latest call & response, asking impractical laborers What frameworks are essential supporting structures for your practice? Read a review of the September 2019 show at Unrequited Leisure (Nashville, TN) over at Number:Inc Magazine.
experiments in paper typography
A Woven Alphabet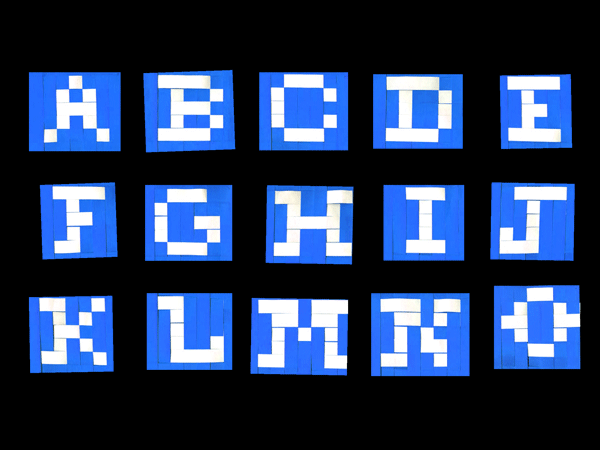 alder & frankia
From a Winter Notebook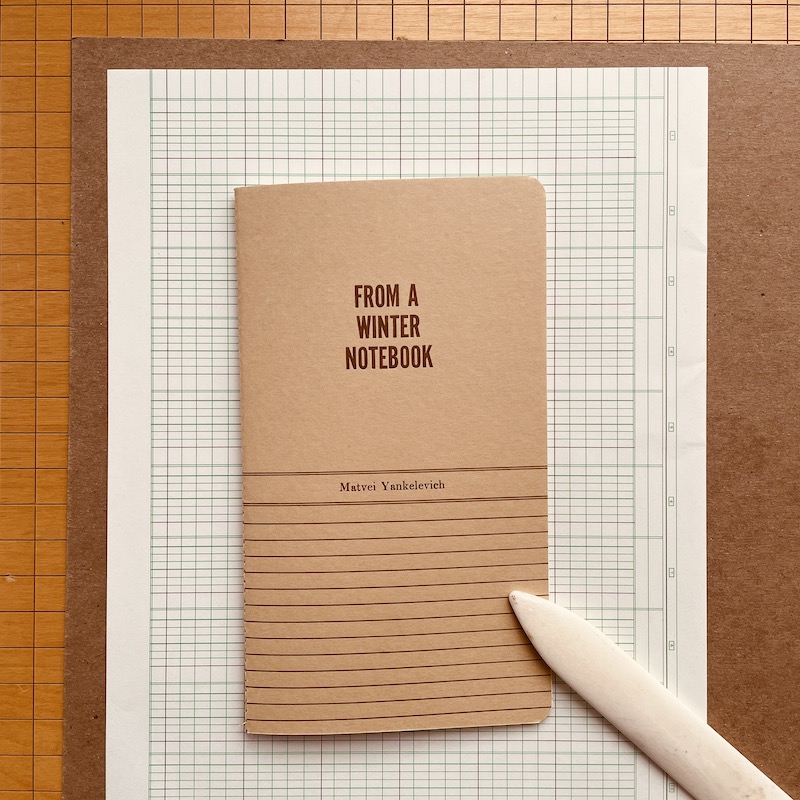 A handmade chapbook of poems by Matvei Yankelevich, out of print.
surveying the art-going public for their
Opinions on Art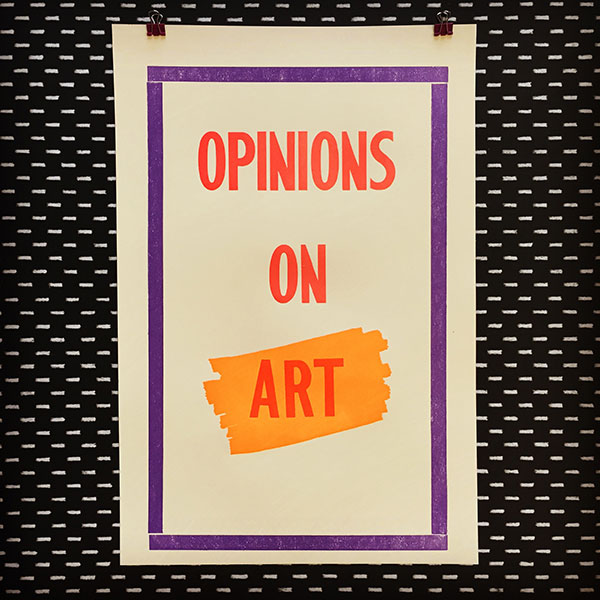 Letterpress printed surveys answered by attendees at guest lectures, open studios, and visiting artist gigs, 2015. Now in a private collection.
one mark one thousand times
Computer Cross-stitch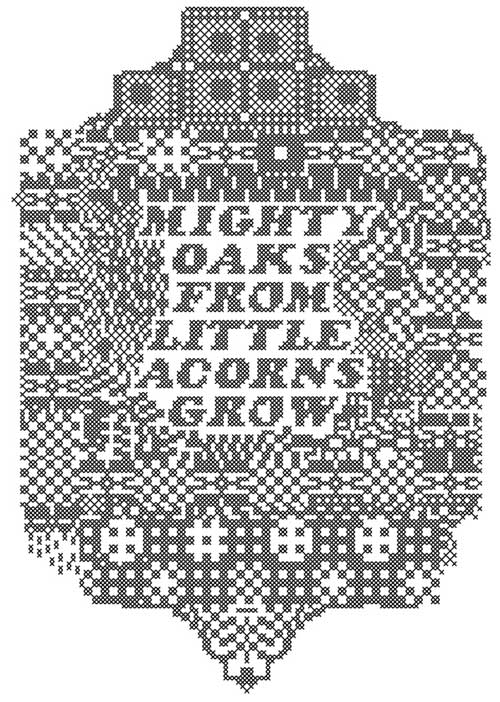 hand-mind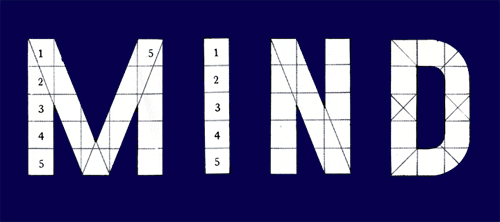 a reversible poster for ilssa
Satisfied / Alienated Workers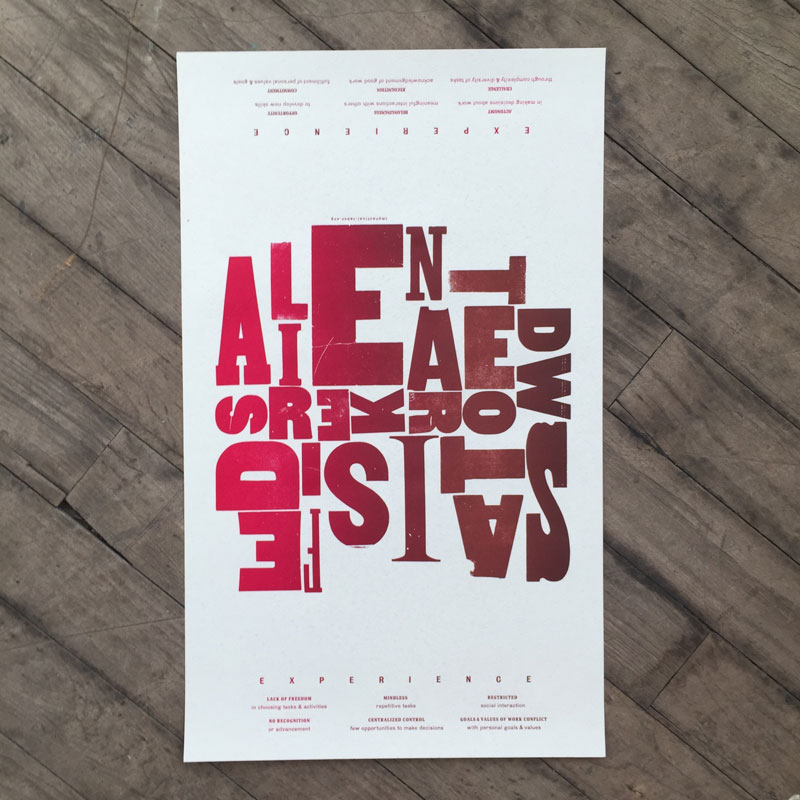 Satisfied workers experience belongingness, autonomy, and the opportunity to develop new skills. Alienated workers experience centralized control, little community, and no recognition or opportunity for advancement. Rotate this poster to best suit your own working conditions. Handset wood and metal types, printed letterpress, for Impractical Labor.
back in stock: election 2016 zine
November 8, 2016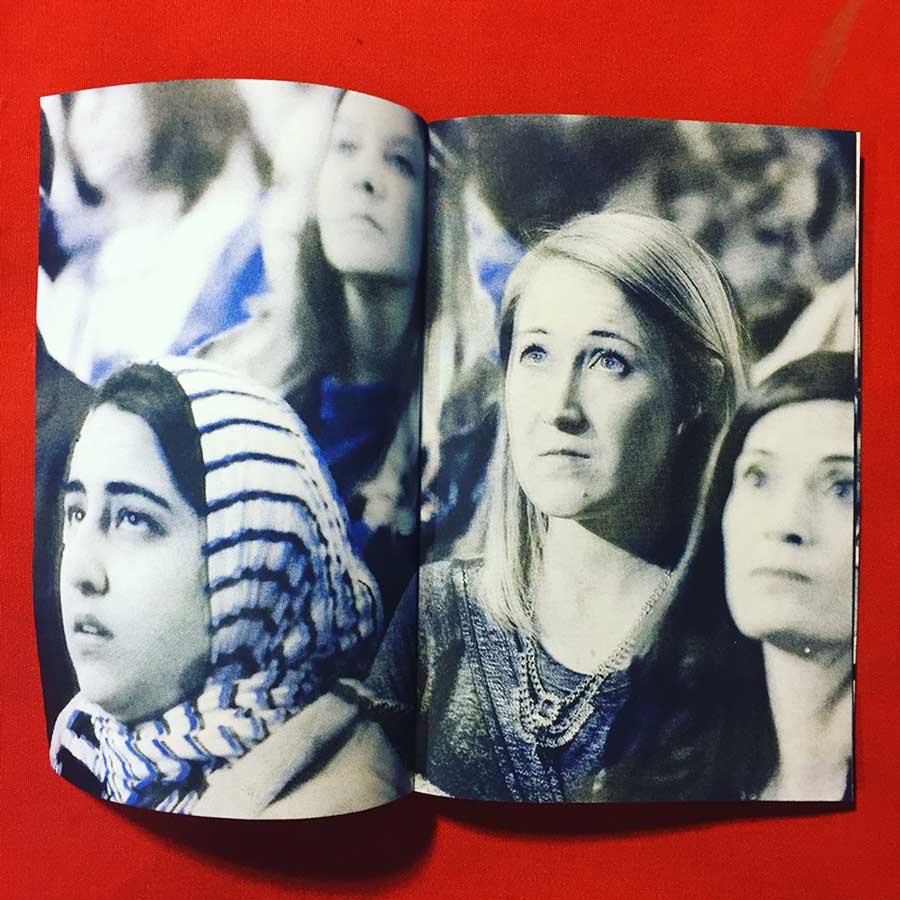 A fundraising zine made the morning after the 2016 election. $5 from each sale is donated to the National Women's Law Center.
head in the clouds lp
Headroom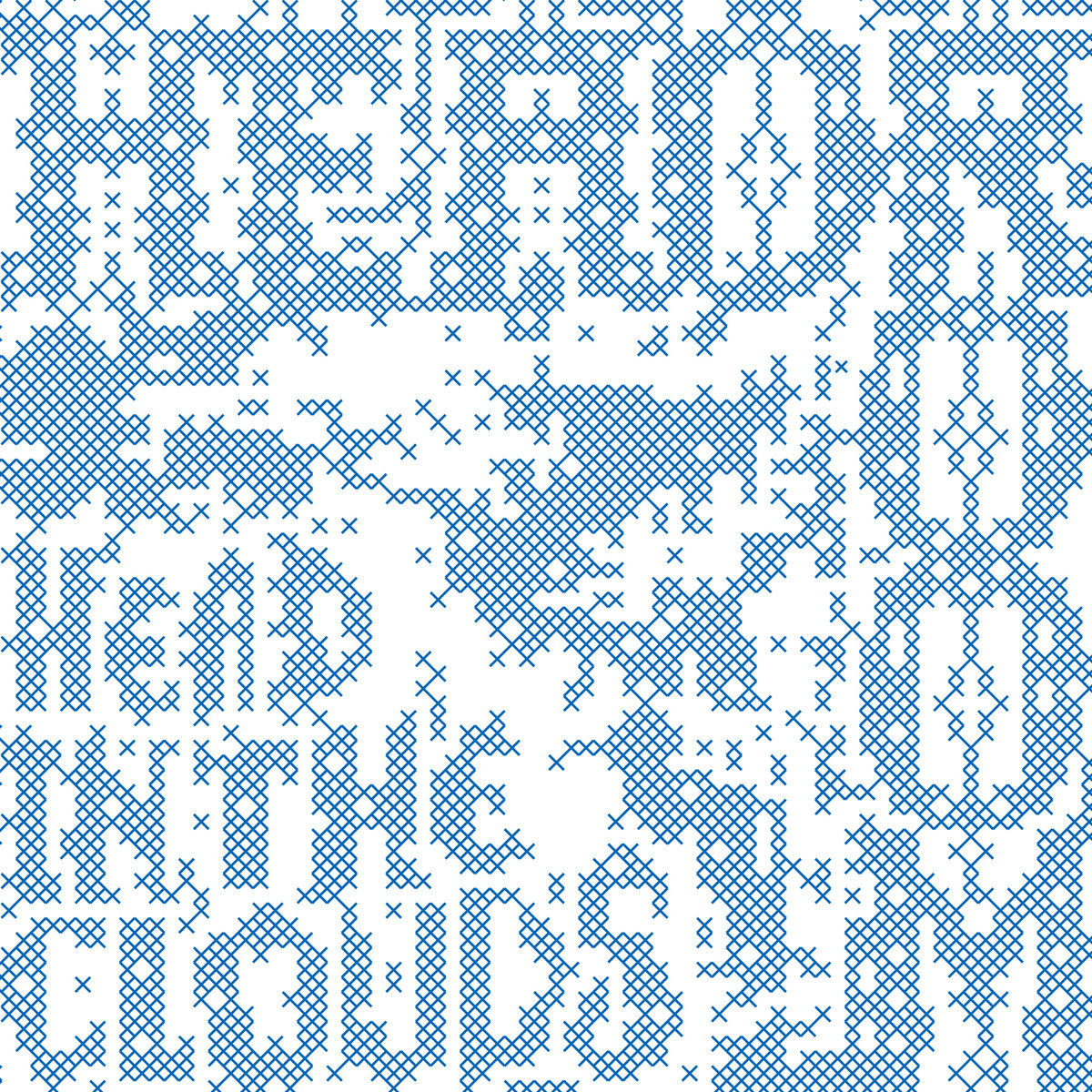 Computer cross-stitch record cover for the one and only Kryssi Battalene, out on Trouble in Mind Records.
the first book from alder & frankia
Beauty in Transition: Portraits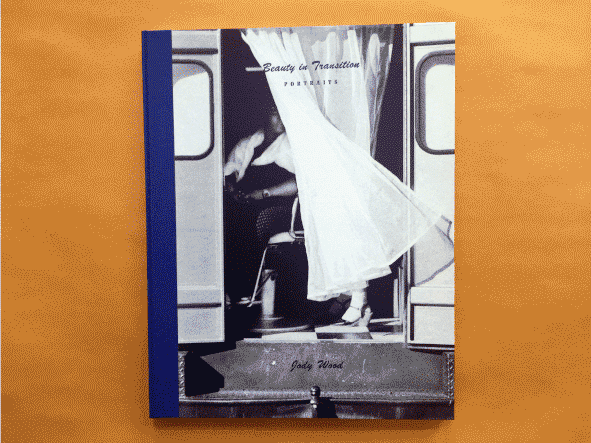 NYC-based artist Jody Wood created a mobile hair salon for people who are homeless and residing in shelters. Her project, titled Beauty in Transition, has been funded by A Blade of Grass, and featured by The Atlantic and MSNBC. This award-winning handmade book documents Wood's project in a beautiful, intimate, and tactile risograph and letterpress edition. From Wood's introduction: "While a hair salon service may seem to be a superfluous extra, it is an act geared toward re-accessing parts of identity that have been pushed aside . . . I am especially interested in this non-essential aspect, because ephemeral and temporary interventions to systemic problems are often overlooked. Sometimes the most meaning, and the most meaningful change, can exist in the day-to-day, the temporary, the non-essential, the seemingly unimportant details."
ps contact sheet typesetting
Automated Hand-setting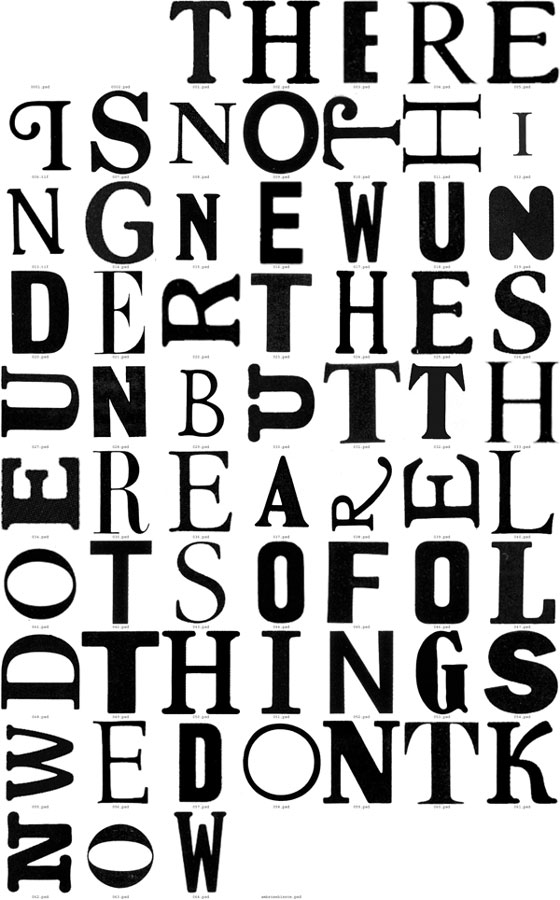 essential tools for living
ILSSA Implement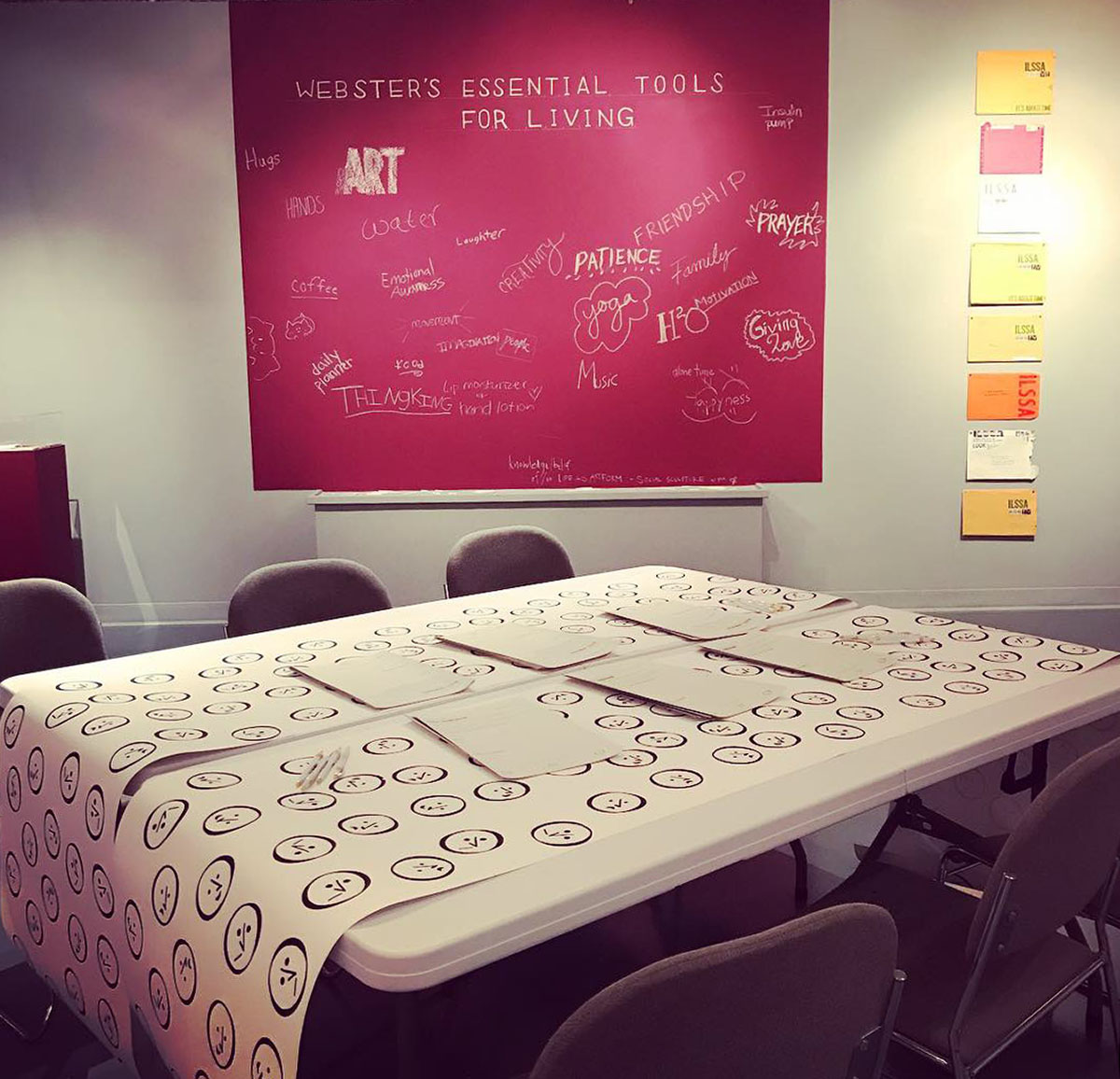 ILSSA Implement: Essential Tools for Living explores and expands the potential of the toolkit, inviting individuals to consider and share what they deem to be essential tools for living. Installed at Hunt Gallery, Webster University, St. Louis, MO, November 16, 2018–January 5, 2019.
marxian letterpress broadsides pegged to the dow
The Stock Project
a chronobiology self-test for ilssa
Making Time Quarterly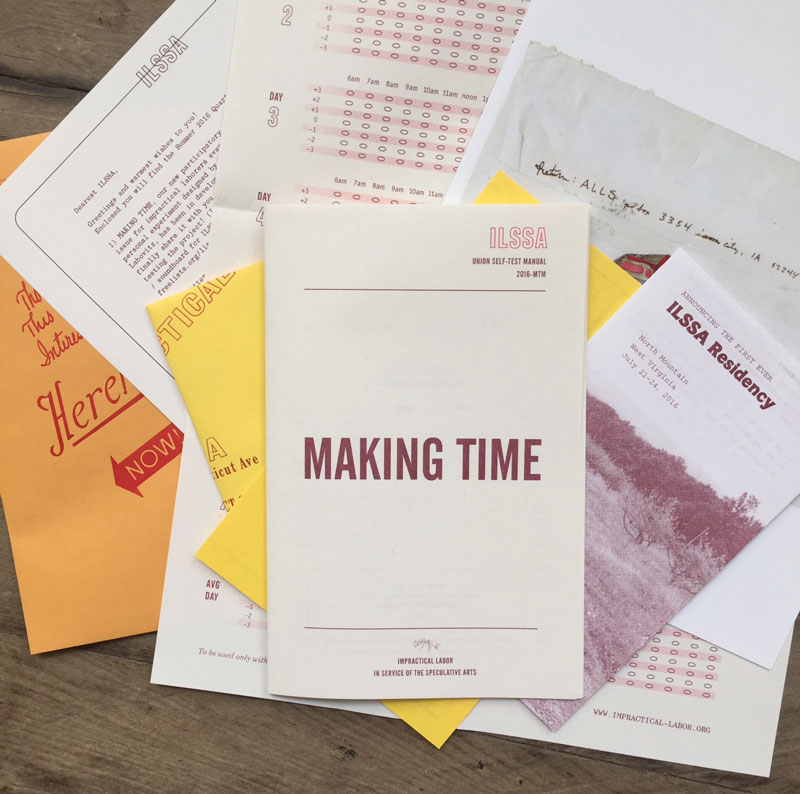 Are you always +2 at 11am? The summer 2016 ILSSA Quarterly included a chronobiological self-test to determine your own personal time cycle, made in collaboration with Bridget Elmer and John Labovitz. Now available in a blue and red second printing, September 2019.
one mark one thousand times
Computer Cross-stitch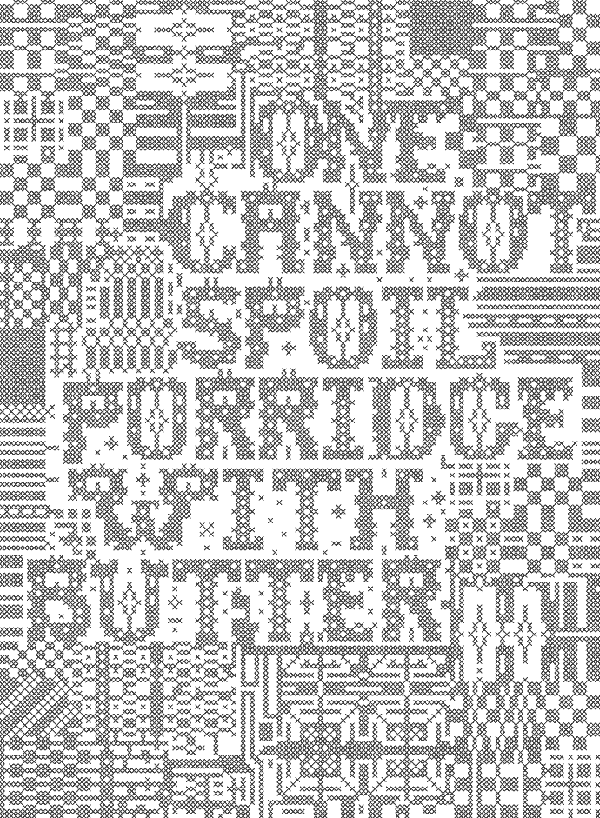 old-new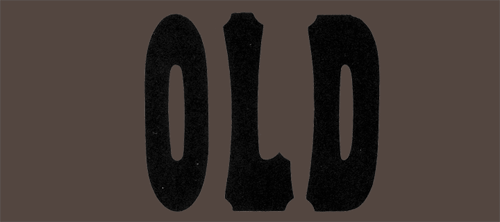 album cover: games of skill & chance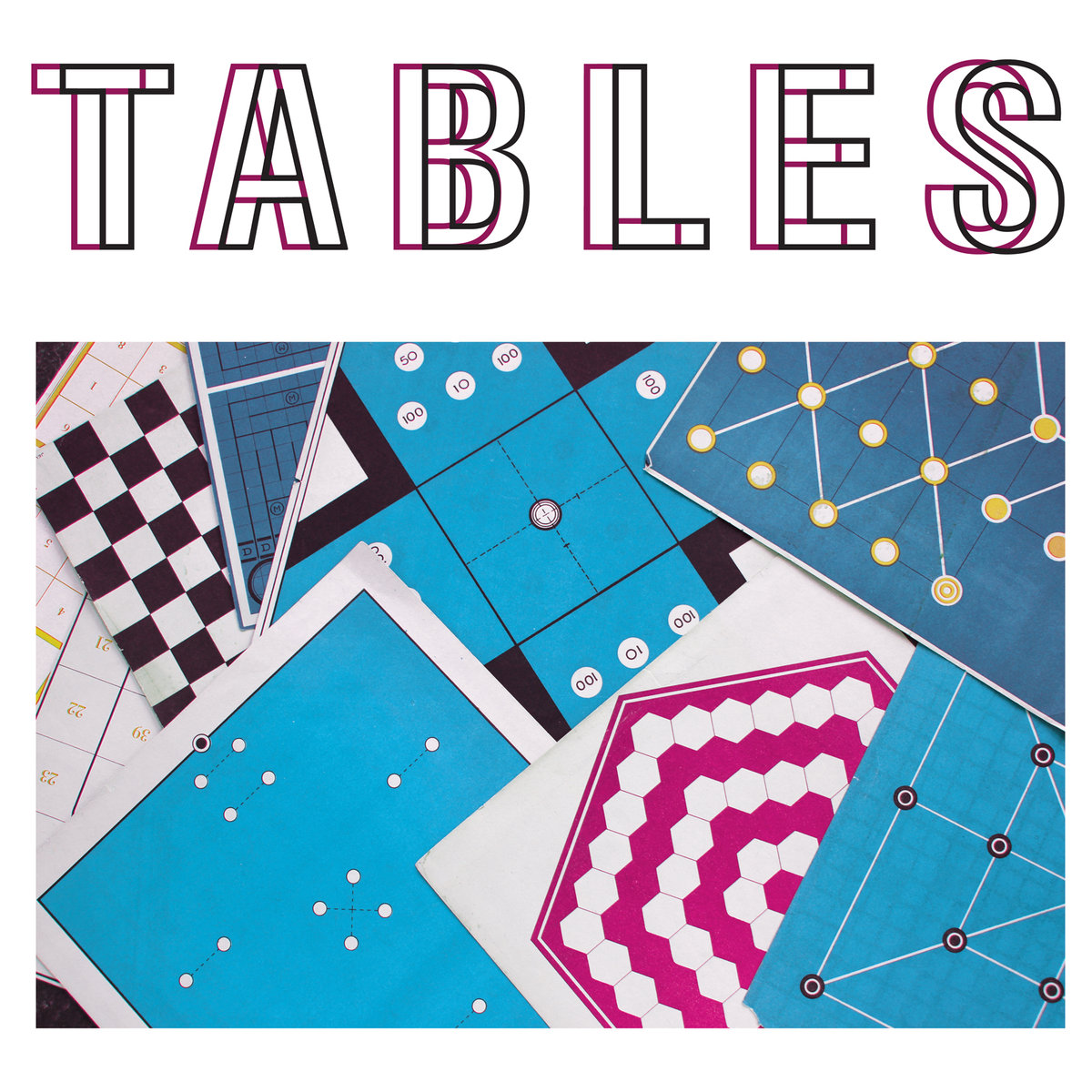 Record cover for the amazing TABLES, out on Safety Meeting Records.
tours to an abandoned seaside park
Pleasure Beach Lives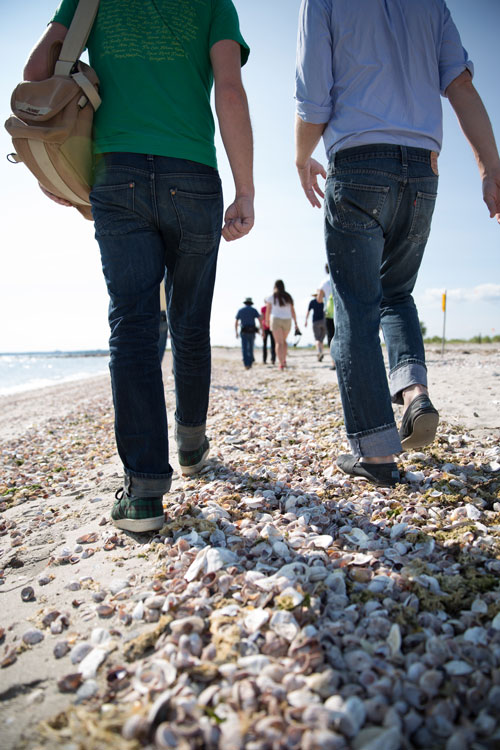 From 2012–2014, I organized free walking tours from Stratford's Long Beach to Bridgeport's abandoned Pleasure Beach, a former amusement park. Tours were often led by resident local experts, including a historian, biologist, social studies teacher, and master wildlife conservationist. Photo by Kelly Jensen.