40 years of bloodroot
Our daily lives have to be a satisfaction in themselves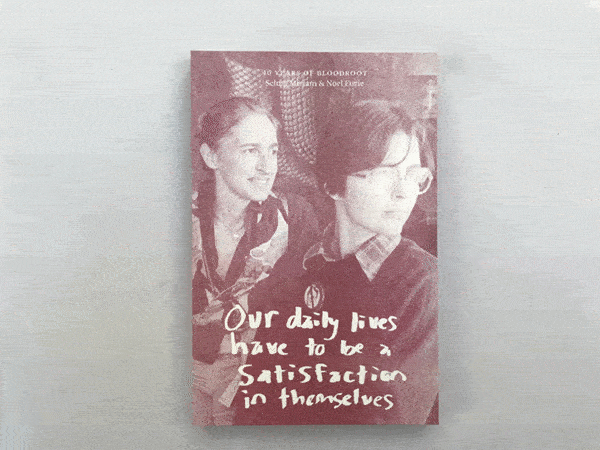 Described as "a small, perfect book" and selected as Best Book of 2017 by the Endless Bookshelf, Our daily lives have to be a satisfaction in themselves is a handmade book documenting 40 years of Bloodroot, the feminist vegetarian restaurant, bookstore, & radical lesbian work collective in Bridgeport, CT. Comprising personal-political essays by Selma Miriam & Noel Furie & many previously unpublished photographs by Noel, the book is Risograph printed, handsewn, 5.25 × 8 inches, 144 pages, edition of 400, $35. The book has been awarded design honors from AIGA (50 Boooks | 50 Covers), the Type Directors Club (TDC) (World's Best Typography), and the Connecticut Art Directors Club (CADC) (Gold Award in Book Design, and the Spirit of Creativity Award). First printing (copies 1-200) sold out, second printing (copies 201-400) ready in October 2018. Pre-order now & get free shipping in the USA!
a reversible poster for ilssa
Satisfied / Alienated Workers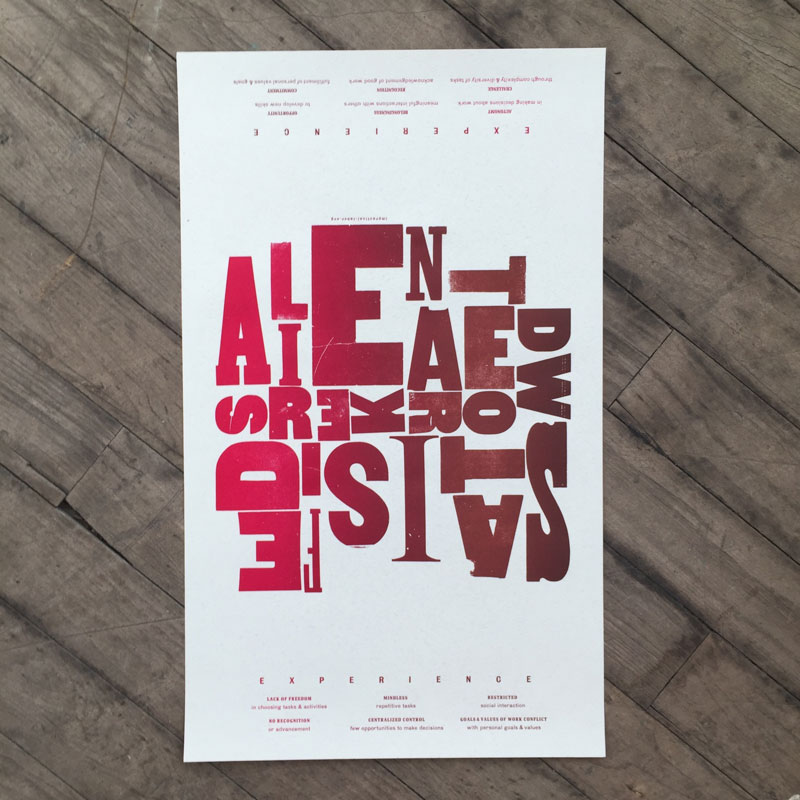 Satisfied workers experience belongingness, autonomy, and the opportunity to develop new skills. Alienated workers experience centralized control, little community, and no recognition or opportunity for advancement. Rotate this poster to best suit your own working conditions. Handset wood and metal types, printed letterpress, for Impractical Labor. ILSSA members, you will receive your own copy in the fall 2017 Quarterly!
head in the clouds lp
Headroom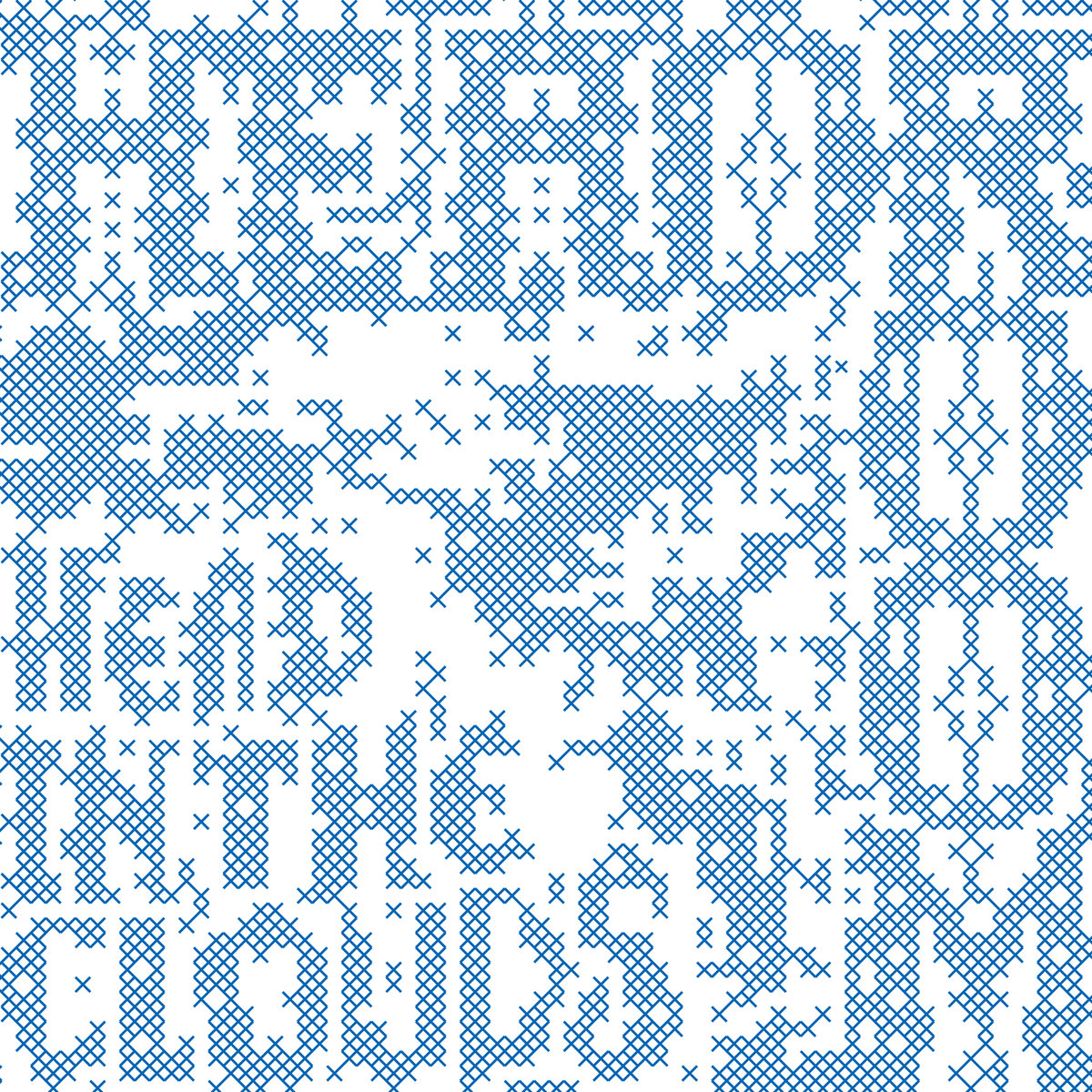 I'm a huge fan of Kryssi Battalene, so I was pretty excited when she contacted me to make the artwork for her new record (released October 20, 2017). Head over to your favorite local record shop or to Trouble in Mind Records to pick up a copy.
the first book from alder & frankia
Beauty in Transition: Portraits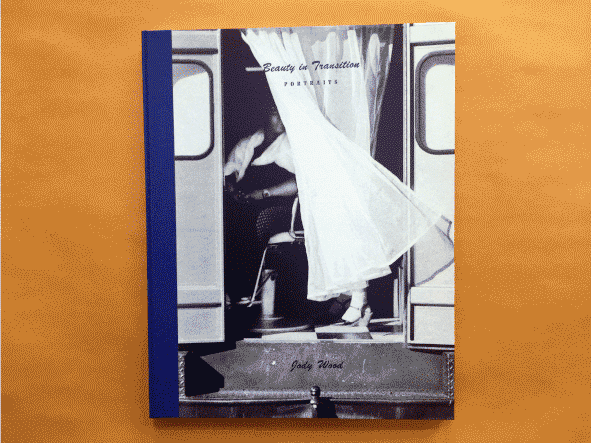 NYC-based artist Jody Wood created a mobile hair salon for people who are homeless and residing in shelters. Her project, titled Beauty in Transition, has been funded by A Blade of Grass, and featured by The Atlantic and MSNBC. This award-winning handmade book, published by my imprint of collaborations Alder & Frankia, documents Wood's project in a beautiful, intimate, and tactile edition while preserving the privacy of the participants. Edition of 100, $55. Read more about the book or
make the most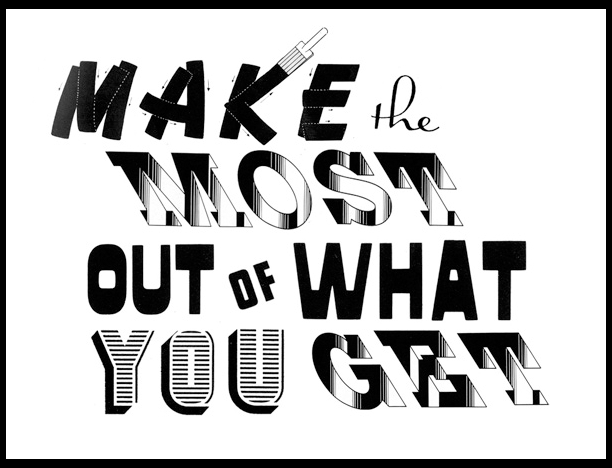 back in stock: election 2016 zine
November 8, 2016
A zine made the morning after: photos from Hillary's Election Night Party. $5 from each sale is donated to the National Women's Law Center. 16 page zine, Risograph printed in blue and black, saddle stitched, 3rd edition (1st and 2nd editions sold out). $7.
$440 raised so far
tours to an abandoned seaside park
Pleasure Beach Lives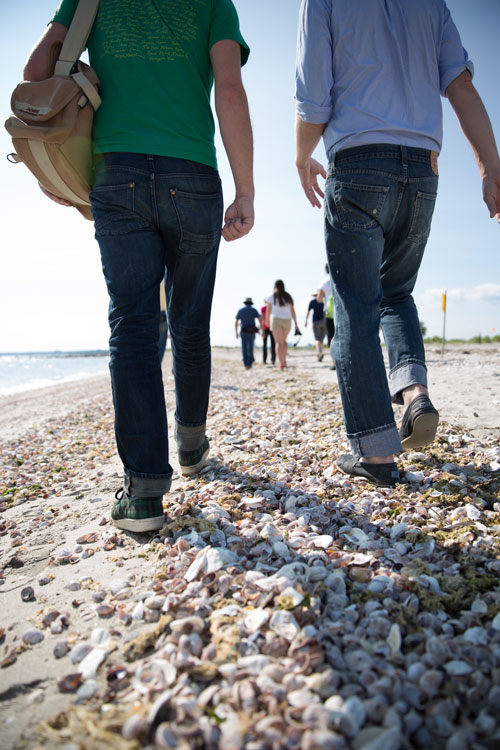 From 2012–2014, as a socially engaged art project, I organized free walking tours from Stratford's Long Beach to Bridgeport's abandoned Pleasure Beach, a former amusement park. Often these tours would be led by local experts, such as historians, biologists, and wildlife conservationists. Photo by Kelly Jensen.
one mark one thousand times
Computer Cross-stitch
old american proverb
It is Best to Make the Best of the Worst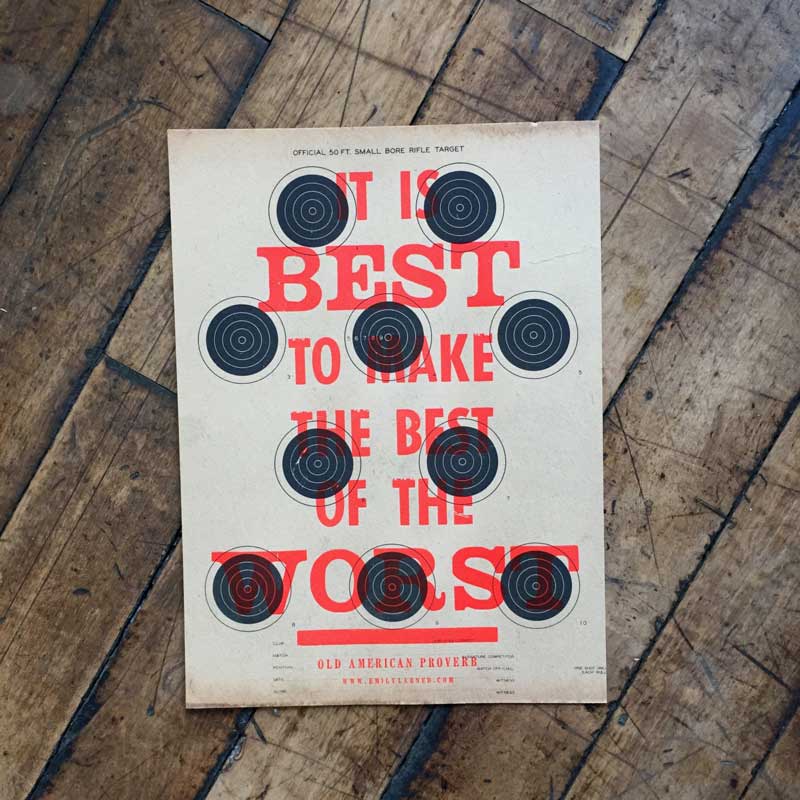 First offered as a print-your-own / post-election fundraiser at 2016 Open Studios, this poster is letterpress printed from metal & wood types on vintage paper targets. At 2017 Open Studios, a second proverb poster There is More Than One Way Out of the Woods (green ink) was offered to visitors. To date, $785 has been raised for the Coalition to Stop Gun Violence.
surveying the art-going public for their
Opinions on Art
the next project for ilssa
ILSSA Implement
ps contact sheet typesetting
Automated Hand-setting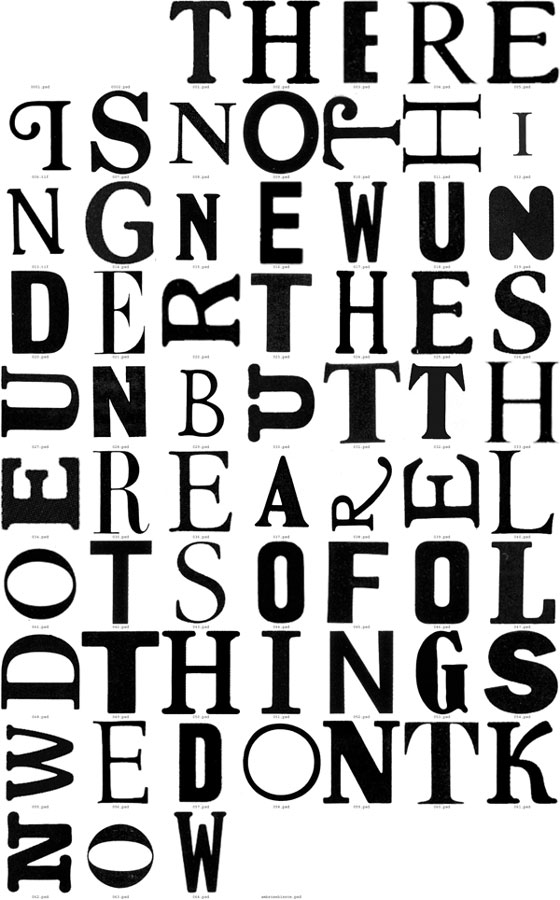 hand-mind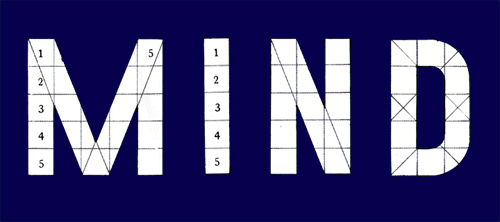 marxian letterpress broadsides pegged to the dow
The Stock Project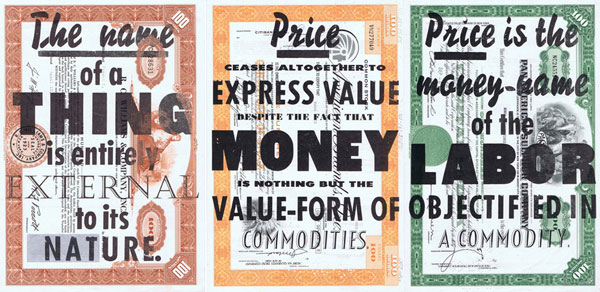 a chronobiology self-test for ilssa
Making Time Quarterly
Are you always +2 at 11am? The summer 2016 ILSSA Quarterly included a self-test to determine your own personal time cycle, made in collaboration with Bridget Elmer and John Labovitz, along with an announcement about the first ever ILSSA Residency. Read all about it, and all about ILSSA, over at the Impractical Labor website.
old-new
one mark one thousand times
Computer Cross-stitch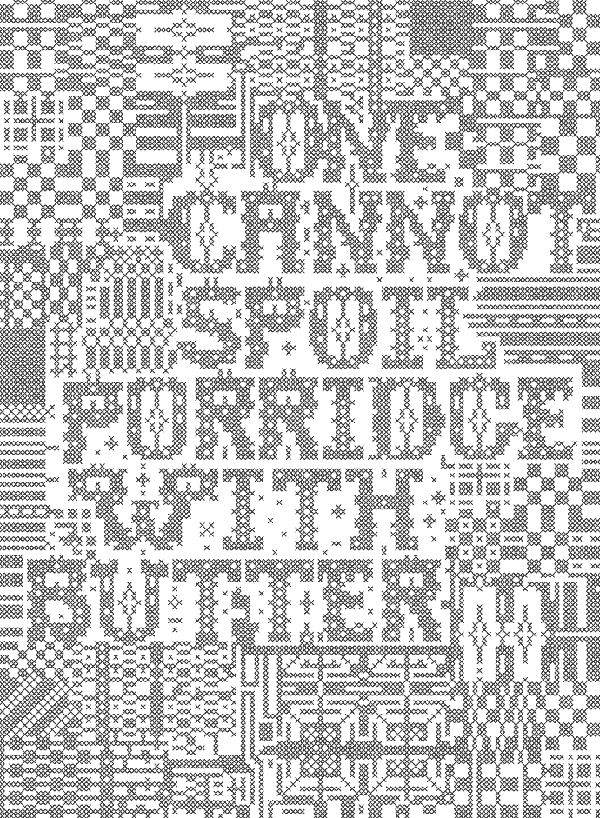 experiments in paper typography
A Woven Alphabet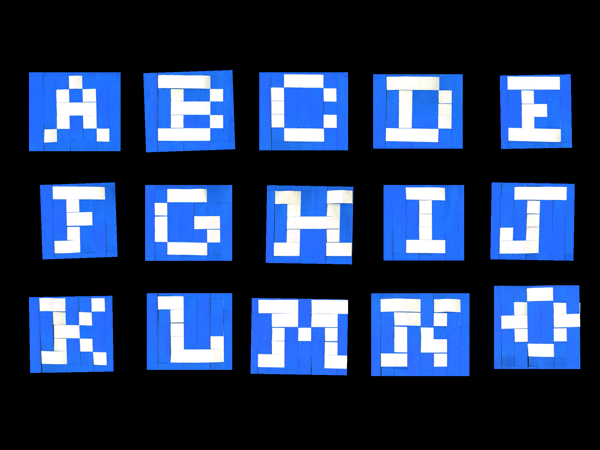 study in limitations: a script written from a list
Hiss
one white t-shirt styled 54 ways
Lookbook 54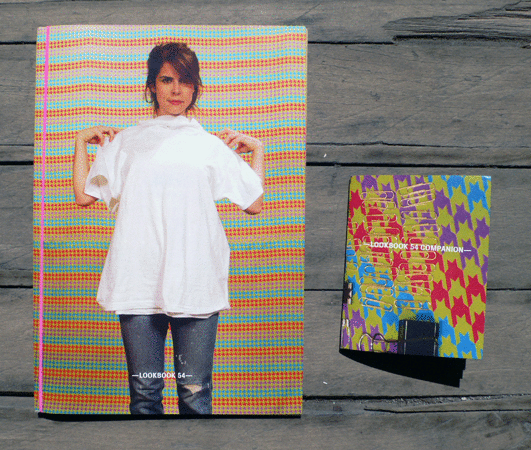 What is the most reductive form that can yield the most variety in meaning? Possibly the white t-shirt. Tight it is James Dean, huge it is hip-hop. It's not what you wear, it's how you wear it. 54 different characters are created with nothing but one XL white t-shirt and common office supplies (binder clips, safety pins, duct tape) used as styling aids. All accessories serve a function and the shirt is never cut or permanently altered. Accompanied by the Lookbook 54 Companion, showcasing hair, make-up, & accessories created with office supplies. This project was a collaboration with Roxane Zargham, who made all the photographs. 116 pages, 7⨯10 inches, $30.
album cover: games of skill & chance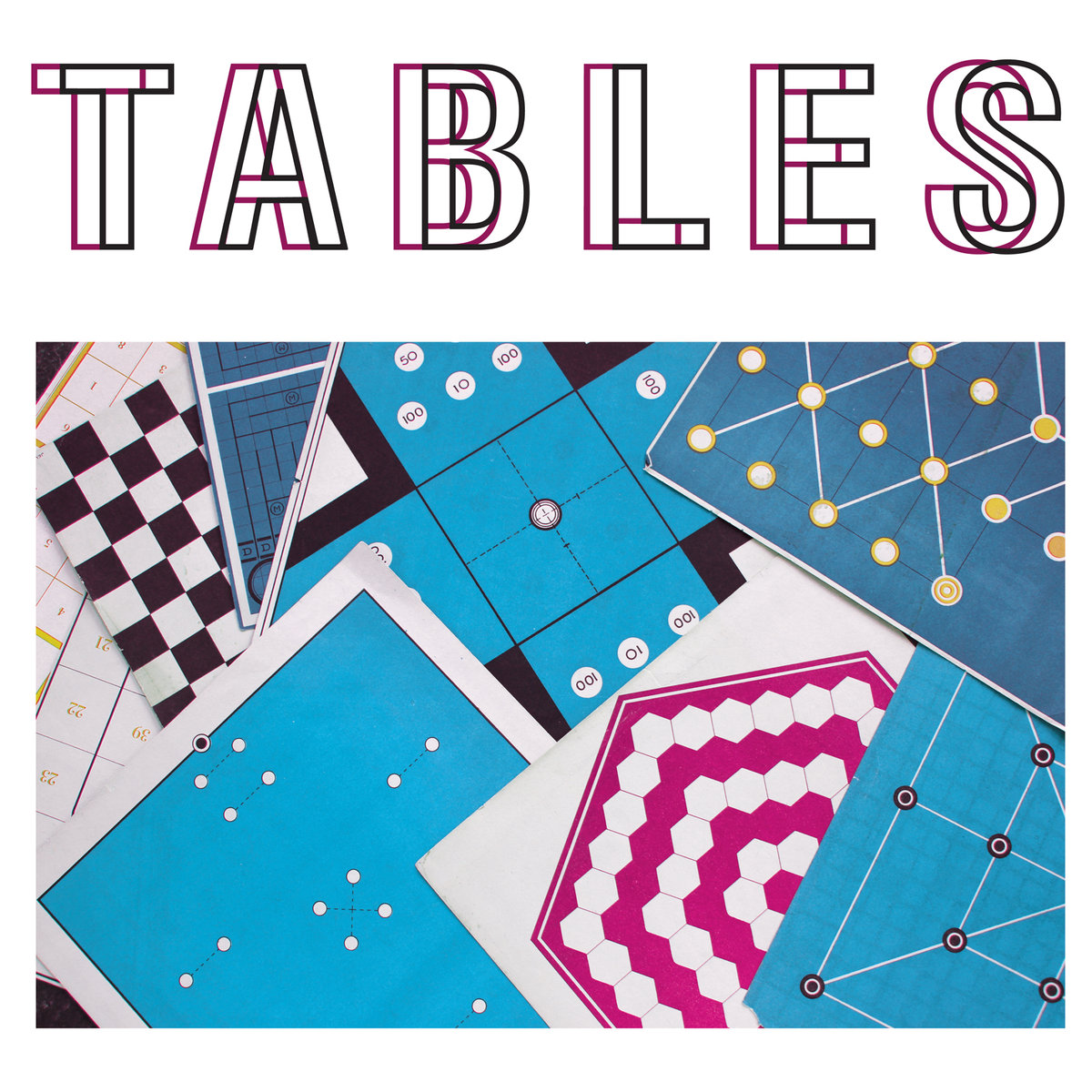 The TABLES s/t debut LP is a truly stunning improvised ambient album for the New New Age. It has become one of my all-time favorite records, so it is forever my honor to have designed the artwork. Listen and purchase over at Safety Meeting Records.