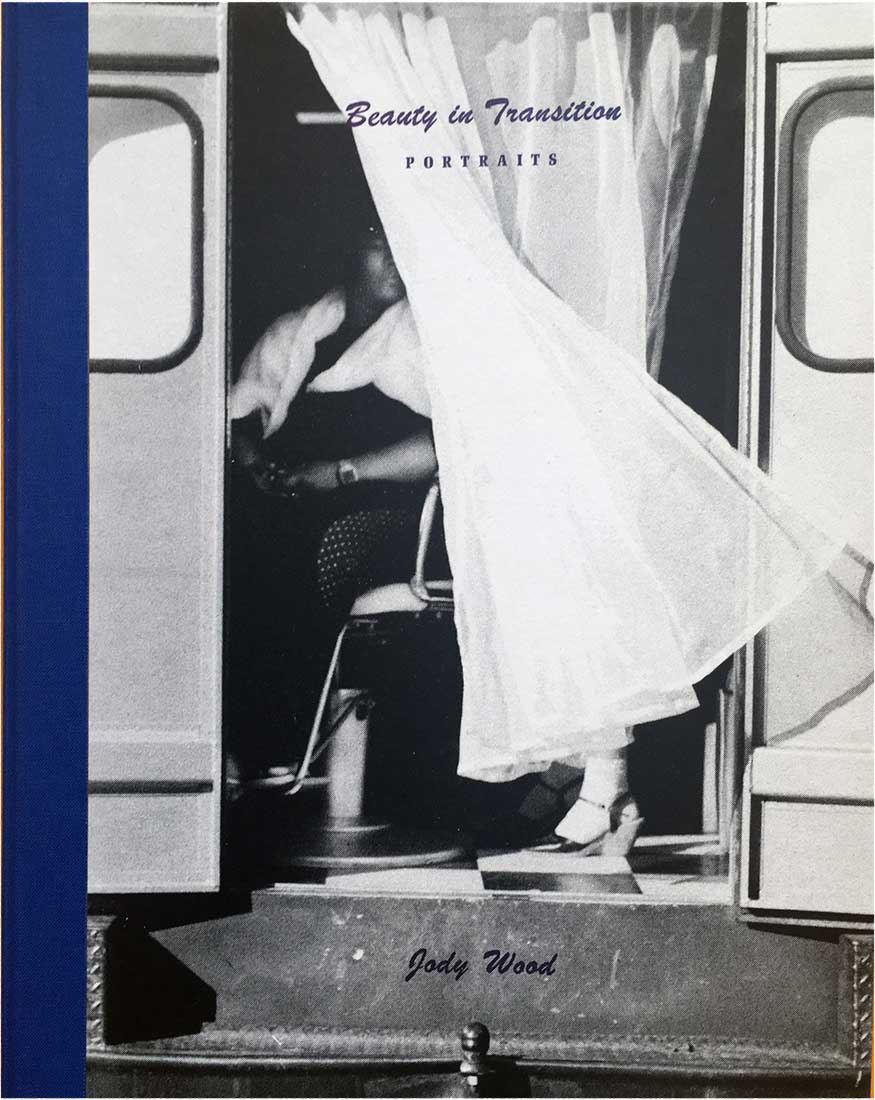 the first book from alder
&

frankia
Beauty in Transition: Portraits
NYC-based artist Jody Wood created a mobile hair salon for people who are homeless and residing in shelters. Her project, titled Beauty in Transition, has been funded by A Blade of Grass, and featured by The Atlantic and MSNBC. This award-winning handmade book, published by Larned's new imprint of collaborations Alder & Frankia, documents Wood's project in a beautiful, intimate, and tactile edition while preserving the privacy of the participants.
Wood's essay is handset in metal type and printed letterpress in a blue-red gradient. Wood's fifteen portraits —always taken from the back, showcasing the clients' freshly styled hair while protecting their anonymity — were color separated and printed in red, blue, and black on a Risograph. The book is drumleaf bound by hand, allowing the book to open flat. The book was collaboratively designed by Larned and Wood and printed and handbound by Larned at her studio RCHQ in Bridgeport, Connecticut.
Beauty in Transition: Portraits.
2016.
Images printed Risograph.
Text printed letterpress from handset type.
Mohawk Via Vellum paper.
Foil-stamped spine.
Hardcover, handbound.
8.5 ⨯ 10.5 inches.
28 pages.
Limited edition of 100 copies.
Signed by Wood & Larned.
Winner of a 2016 Silver Award from the Connecticut Art Directors Club.
$55
$115 special edition (see below).
special edition
Beauty in Transition: Portraits
The Special Edition includes a copy of the book and three Riso prints from the project, housed in a letterpress printed black paper wrapper. Limited edition of 15 copies. 8.75 ⨯ 11 ⨯ .5 inches. $115.
Alder & Frankia (est. 2016) is a publishing imprint by Emily Larned. The alder is a birch tree that flourishes in unexpected places thanks to its symbiotic relationship with the microorganism frankia, which lives in its roots. The alder feeds the frankia sugar, and in return the frankia converts nitrogen into a compound that enables the alder to thrive. Alder & Frankia books are Larned's collaborations with other artists, thinkers & doers. Beauty in Transition: Portraits is the first Alder & Frankia book.
A portion of Alder & Frankia's profits will be donated to charity. Ten percent of net proceeds from the sale of Beauty in Transition: Portraits will be donated to the Coalition for the Homeless.